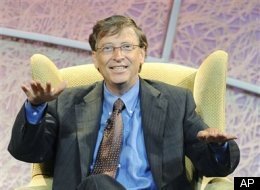 Parlando in un programma televisivo americano, oggi Bill Gates ha dichiarato: "
La censura del Governo Cinese è molto limitata ed è facile da aggirare
".
Ben detto Bill!!!
La situazione che ha riassunto corrisponde alla realtà, quella vera con la R che si riscontra stando qua tutti i santi giorni (ed occupandoci di Media, tra l'altro).
Le limitazioni ci sono, ma non della portata di come viene descritta sui media occidentali e comunque come detto da Bill Gates "
non possono rappresentare un ostacolo per lo sviluppo dell'Internet in Cina
."
Non solo ha anche sottolineato come "
bisogna decidere se obbedire alle leggi del Paese nel quale ci si trova oppure no. Se non si obbedisce, si possono anche non fare affari
".
Comunque ecco il testo integrale delle dichiarazioni di Bill Gates:
WASHINGTON (Reuters) - Microsoft Corp Chairman Bill Gates on Monday said the Internet needs to thrive in China as an engine of free speech and described official online censorship by Beijing as "very limited."

Asked in an interview on ABC's Good Morning America about Google Inc's dispute with China, Gates said the Internet is subject to different kinds of censorship around the world but has proved a consistent success at promoting openness and the exchange of ideas.

"You've got to decide: Do you want to obey the laws of the countries you're in, or not? If not, you may not end up doing business there," Gates, the world's richest man, said without mentioning Google by name.

"The Chinese efforts to censor the Internet have been very limited. It's easy to go around it, and so I think keeping the Internet thriving there is very important," he said.

The interview coincided with efforts by China to defend its curbs on the Internet nearly two weeks after search engine giant Google said it wanted to stop censoring its Chinese Google.cn website. The company said it was alarmed by online hacking attacks from within China.

Google's complaints have received backing from the White House. But China has countered with accusations that Washington was using the Internet to support subversion in Iran.

Gates, 54, who co-founded computer software giant Microsoft, remains the company's chairman but tends to focus his attention on the philanthropic activities of the Bill & Melinda Gates Foundation, which he runs with his wife Melinda and father William Gates Sr.